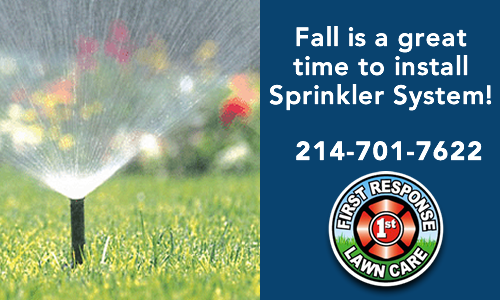 A sprinkler system ensures your lawn has the hydration it needs to maintain optimum health and look its very best. If you're in the market for a sprinkler system, now is the perfect time of year. 
With summer coming to an end in 11 days, First Response Lawn Care advises that now is the best time for sprinkler system installation. Keep reading if you'd like to learn why autumn is such a great time to set up a system that keeps your grass green and nourished:
3 Reasons Autumn Is The Best Time For Sprinkler Installation
Moderate Temperatures 
North Texas summers can be uncomfortably hot, and the winters can be downright frigid. The temperatures in autumn are relatively moderate, and this makes it a lot more comfortable to be outdoors for long stretches.  
Little Precipitation
Precipitation slows sprinkler installation and there is little or no precipitation in fall.  Digging is necessary to put the sprinkler system in place, and if it's raining, the weather will actively delay installation. Spring and summer often bring rain, and winters may bring some precipitation. Setting up your sprinkler in the fall allows us to get the job done without being hindered by uncooperative weather. 
Faster Service & Better Deals
Autumn is a quieter time of year for most sprinkler installation companies, and this means you're likely to benefit from faster installation and possibly cost-saving deals. 
Choose First Response Lawn Care for all your irrigation and sprinkler system needs in Rockwall, Texas and the surrounding areas. Call (214) 701-7622 to speak with a representative today!