Over time soil can become compacted and hard with continual use from human traffic or mechanical equipment. This compaction restricts water, air, and nutrients from getting into the root zone of the turf which, if left untreated can lead to an unhealthy lawn that eventually dies off.
For optimal lawn health, it is imperative to aerate your lawn on a yearly treatment program.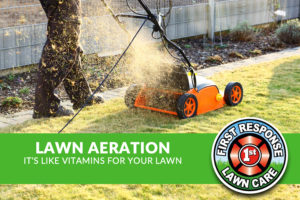 First Response Lawn Care provides aeration services to Rockwall, Texas, Royse City, Caddo Mills, Fate, and surrounding communities. The results are a healthier and stronger turf and root zone that are able to better withstand turf related diseases, pests, and weeds. The turf also requires less watering as the aeration improves the soil drainage. This allows water to seep further into the soil, promoting deeper root growth, leaving you with a more drought tolerant area.
Does Your Lawn Need Aeration?
How can you tell if turf needs to be aerated? Typically, the best way to determine aeration need is to pull core samples to check thatch depth and compaction layers. You'll want to be sure to pull at least three-inch plugs to get a clear picture of the situation. If you observe a thatch layer of more than one-half inch, aeration will be beneficial to help break down the excess lawn thatch.
Watering and weed growth can be valuable in determining the need for aeration. If water is pooling where it didn't before, it could be due to compacted soil keeping water from infiltrating through the soil. Certain weeds such as annual bluegrass or knotweed often inhabit compacted areas. In places without direct sunlight, moss and algae growth can be an indicator of compacted soil.
Are you in a new home? New construction areas can often benefit from aeration. Construction equipment can compact the soil, and aeration helps make it easier for newly-laid sod to develop a solid root zone.
If a property has not been aerated in more than one year, you can safely assume that aeration will help alleviate any compaction that exists, and will help promote the growth of healthy, lush turf.
Get a FREE Estimate or Call Now – (214) 701-7622!
Mail checks to:
P.O. Box 452, Fate, Texas 75132
(214) 478-6335 or (214) 701-7622 
Serving Rockwall, Heath, Fate, Caddo Mills, Royse City, Rowlett, Forney,
Heath, Sachse, Wylie, Lavon, Nevada, 

Garland
and surrounding areas
3580 CR 2170, Caddo Mills, Texas 75135