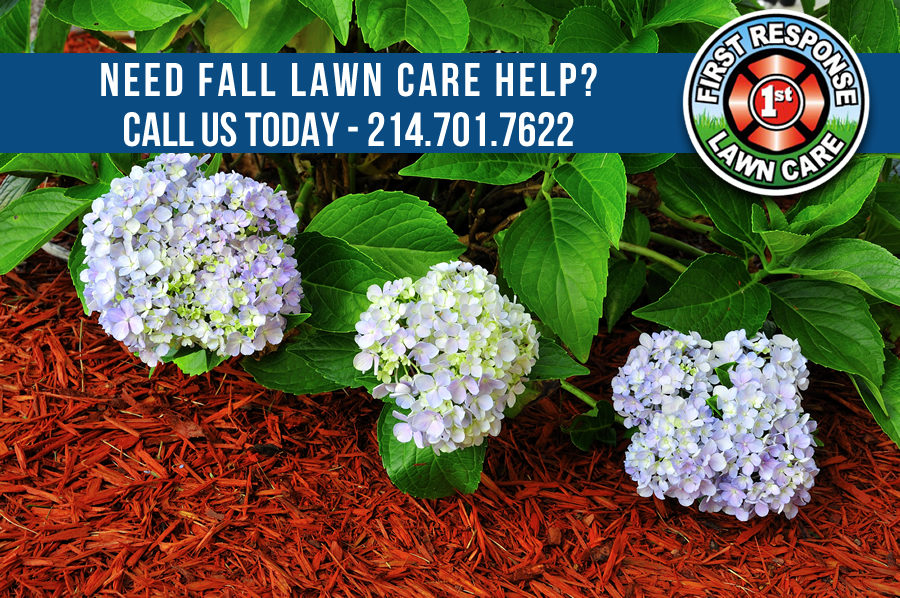 In the fall when temperatures are more moderate, it's a great time to perform lawn maintenance and prep. Here are some fall lawn tips for North Texas on how to cultivate the perfect lawn, and radiant flower beds here in Texas that will have you sitting back and relaxing with minimal regular maintenance.
Check Irrigation
Use water systems which are low profile to ensure you're waste of water is minimal and that the plants receive the majority of it. Be cognizant of plants that require greater amounts of water than others, and try to group them in the same locations. Rather than frequency, aim for an increased length of time in watering. And, finally, ensure your equipment is properly cleaned, functioning, and covering all areas for which water is required. Efficiency increases effectiveness. If you need a checkup of your irrigation system, call First Response Lawn Care!
Mulch and Compost
The effective use of mulch and compost in your soil beds will go a long way toward providing the natural nutrients which are required by your plants, thereby reducing the need for extra fertilizer. They also help to reduce weed growth, and some organic mixes can increase water and oxygen retention as well as carbon-trapping. The best time for compost placement is in the spring, however, mulching can be done in the fall to help protect the root systems of your plants.
Prune
Prune with a purpose. Do not "top" any trees or shrubs including crape myrtles. Never leave stubs. Cut flush against remaining branches on shrubs and along the branch collar on trees. Peach and plum trees should be pruned to encourage horizontal branching, remove any strongly vertical shoots.
Continue to prune evergreen trees such as magnolias, live oaks, and wax myrtles to minimize possible ice damage. Re-shape evergreen shrubs and shade trees, as needed (even during dormant winter months).
Avoid pruning spring-flowering trees and shrubs during the fall, as pruning now will reduce spring flowers. Continue to cut back spent flowers of annuals and perennials to encourage fall blooming until first frost. Trim dead or damaged wood from trees and shrubs but best advice is to avoid drastic pruning.
If you need help with any of the above fall gardening prep, call First Response Lawn Care at (214) 701-7622!.